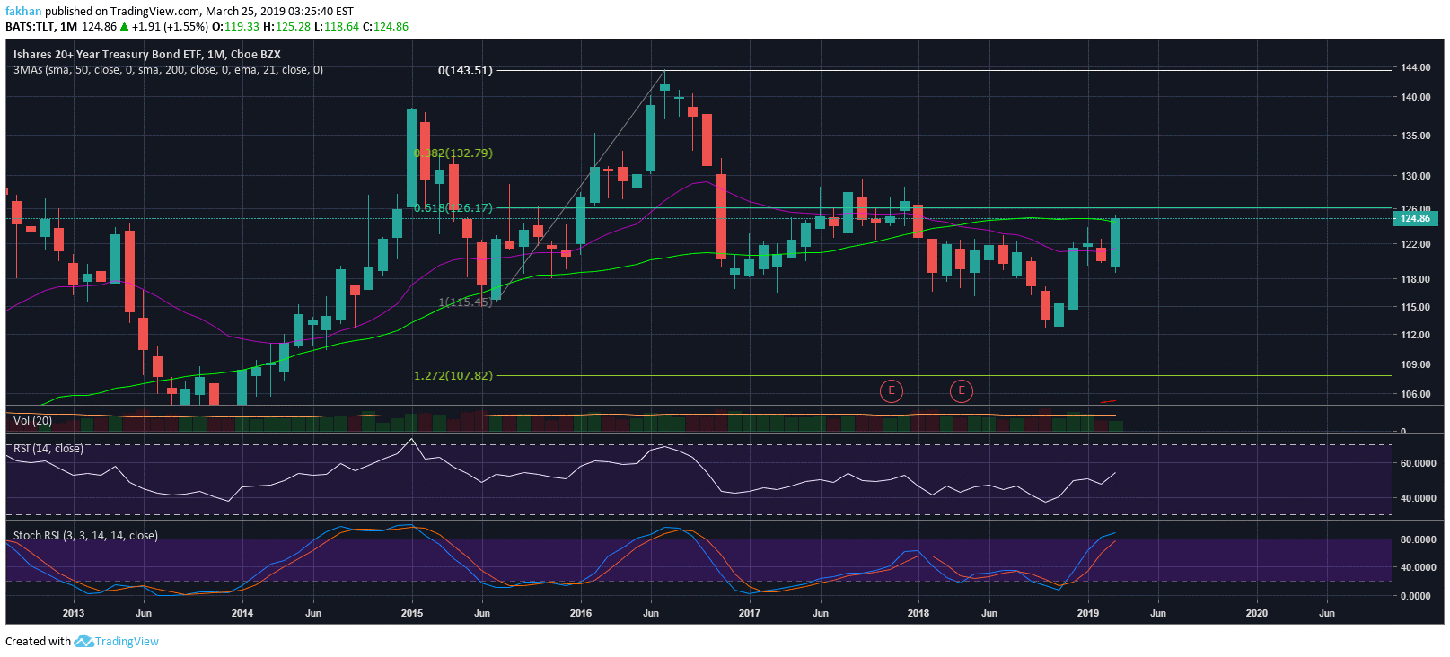 Bitcoin (BTC) is at risk of further decline as fears of a recession loom over. The bond market has historically been a very good indicator of an upcoming crisis. Whenever, the yield curve goes negative, it is a cause for alarm as investors become more cautious about short term bonds and get more interested in long term bonds. We have just seen a negative yield curve for the first time since the last financial crisis. This does not look good for the stock market in general and the cryptocurrency market in particular. The reason Bitcoin (BTC) and the cryptocurrency market is at a bigger risk is because it is an even more speculative and risky market compared to the stock market or short term treasury bonds.
The monthly chart for 20+ Year Treasury Bond (TLT) shows that the price has just climbed above the 50 month moving average. If it closes the month above the 50 month MA, this might be the final nail in the coffin for highly speculative markets and we could expect Bitcoin (BTC) to decline significantly in the weeks and months ahead. This is because every time a recession nears, investors get more interested in longer term treasury bonds compared to short term treasury bonds. In such circumstances, short term bonds have a higher yield but lower price whereas long term bonds have a lower yield but higher price. If investors opt for a lower yield at a higher price long term, it is a strong indicator that something is not right at the moment.
Needless to say, something is not right at the moment because the stock market has been on a wild bullish spree since the last financial crisis. However, this does not mean that everything is going to start crashing down in the weeks or months ahead.