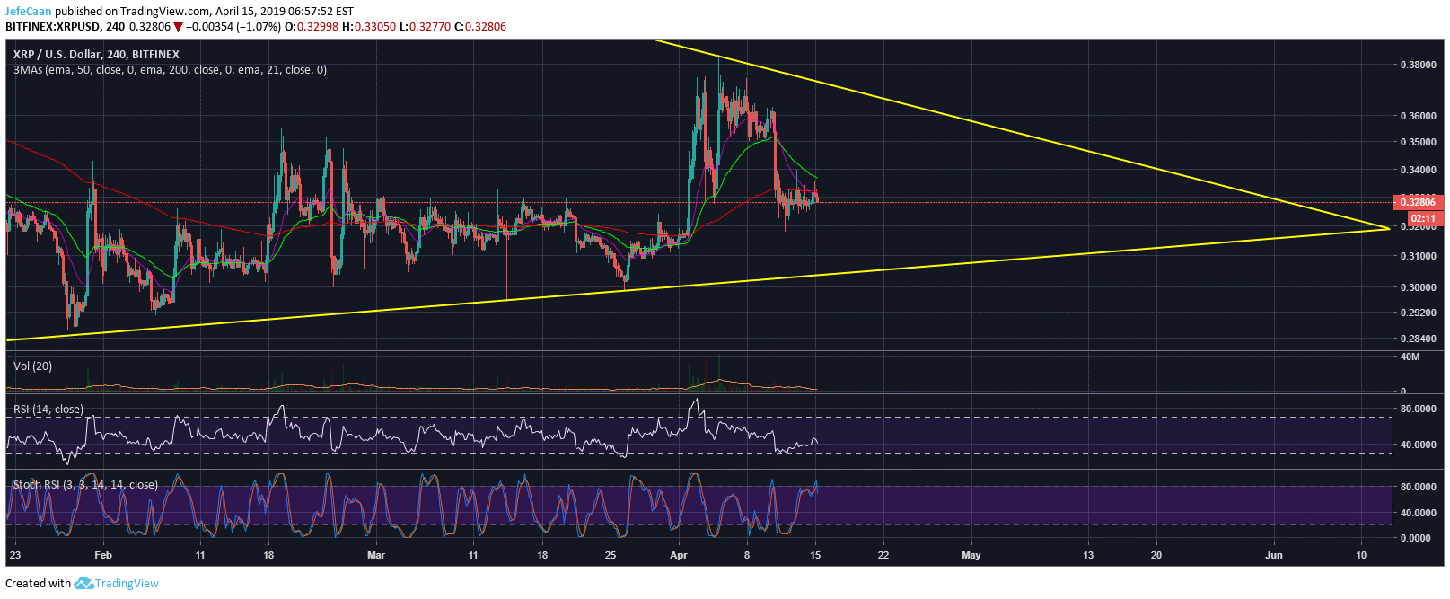 Ripple (XRP) is primed for a major pullback as the price remains very vulnerable. The 4H chart for XRP/USD shows that the price has continuously faced rejection at the 50 EMA and is now likely to decline towards its trend line support. For weeks now, Ripple (XRP) has been stalling a break out of the large symmetrical triangle it has been trading in. The 4H chart shows that there is still plenty of room for XRP/USD to keep on stalling a decisive break to the upside or downside as the price remains range bound. Interest in Ripple (XRP) seems to have declined since the beginning of the year and most analysts are bearish on the future outlook of Ripple (XRP).
The cryptocurrency had a good opportunity to break out against Bitcoin (BTC) in the past few weeks but it failed to capitalize on that. Ripple (XRP) still remains heavily oversold against Bitcoin (BTC) on the weekly time frame but XRP/BTC shows no signs of a recovery. There is news of the cryptocurrency being plagued by fake trades. We have seen proofs of that in the past as well but it did not stop investors from buying and holding XRP. This time however, the buying interest in Ripple (XRP) seems to be fading away probably because investors fear that banks could issue their own digital tokens and there would be no use left for XRP. Even companies like Paypal, Visa or Mastercard might eventually want to issue their own digital tokens at some point. So, although Ripple (XRP) is massively oversold from a technical analysis standpoint, it does not seem such a lucrative investment anymore from a fundamental analysis standpoint.
Ripple (XRP) is yet to break out of a yearlong symmetrical triangle.